Do you have children who won't eat their vegetables?  When our son was little, he would eat anything from the baby food jar: green beans, sweet potatoes, carrots, squash, and even spinach. 
I swelled with pride knowing that my kid didn't spit out his green beans all over the restaurant table missing his bib.  He chewed them up and swallowed them just like I told him to.
So I let him have some of my cooking.  Unlike baby food beans, I proudly maintained, my green beans had flavor.  A little salt, a little chicken or beef bouillon cube for seasoning, and voilà!  No longer would I have to juggle jars of baby food into a buggy.
Hallelujah! 
So, one night, I cooked a meatloaf, with fried okra, mashed potatoes, and copper pennies.  I gave Ian a couple of tiny, pulverized bites from each food and waited patiently as he dipped his spoon into the food and managed to hit his mouth with a little of it…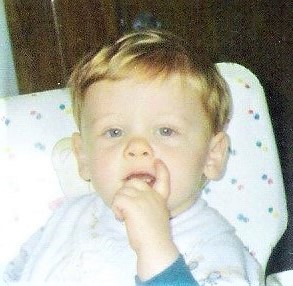 and he screwed up his face and out came the bite.  I thought I would help him with my spoon, so I got it back into his mouth….and out it came again. 
What?!  This can't be happening.  Surely, if bland baby food hits his fancy, my flavorful, time-honored, Southern cooking would make him want to slap his.…never mind.
Well, I don't give up easily. 
I scaled back the seasoning (maybe there were too many),
tried not to brown meats too dark (did it taste burnt?), and left out the salt.
But nothing worked. I struck out again. He still wanted the baby food.     
Fast forward three years, and we started bartering for food.  "Three M&Ms for 3 green beans. Whaddya say, Ian?"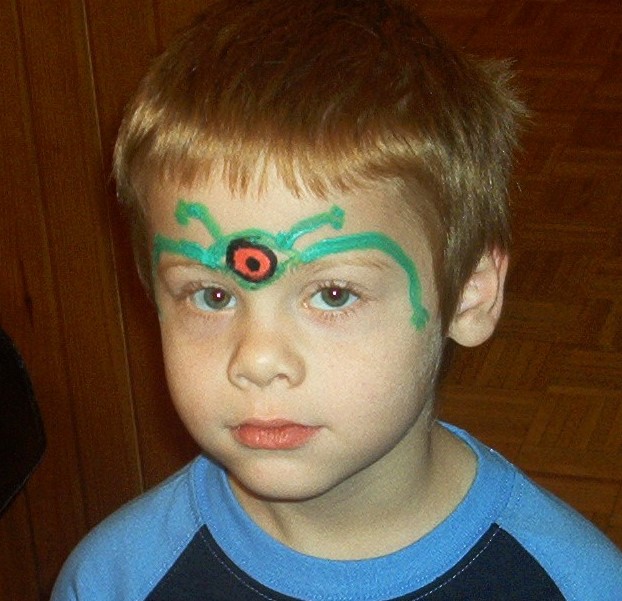 (You can see how that went over.) Finally, I just had to make him eat them.  "Fine. You aren't getting out of that chair until you eat 3 green beans."  Two hours later, he finally ate them. 
Getting him to eat my cooking was the bane of my existence until I stumbled on something he would eat—only because the vegetables were hidden amidst all the chicken, butter, and other yummy fillings.  Chicken pot pie became the dish I used to help my texture-sensitive son eat his vegetables.
Chicken Pot-pie
2 stalks celery
1 Tablespoon of dried minced onion or 1/4 cup of chopped fresh 
Pre-cooked whole rotisserie chicken
2 Tablespoons butter
¼ cup flour
1 teaspoon salt
10 ½ ounce can of chicken broth
½ cup of milk
1 Tablespoon of poultry seasoning 
2 cups of cooked or frozen mixed vegetables (carrots, corn, green beans, potatoes)
1 box of roll-out pie crusts (2 inside box)
By preparing a couple of steps, you can blend the pot-pie in record time. Preheat your oven for 425°.  Open the two rolls of pie crust and allow them to warm to room temperature.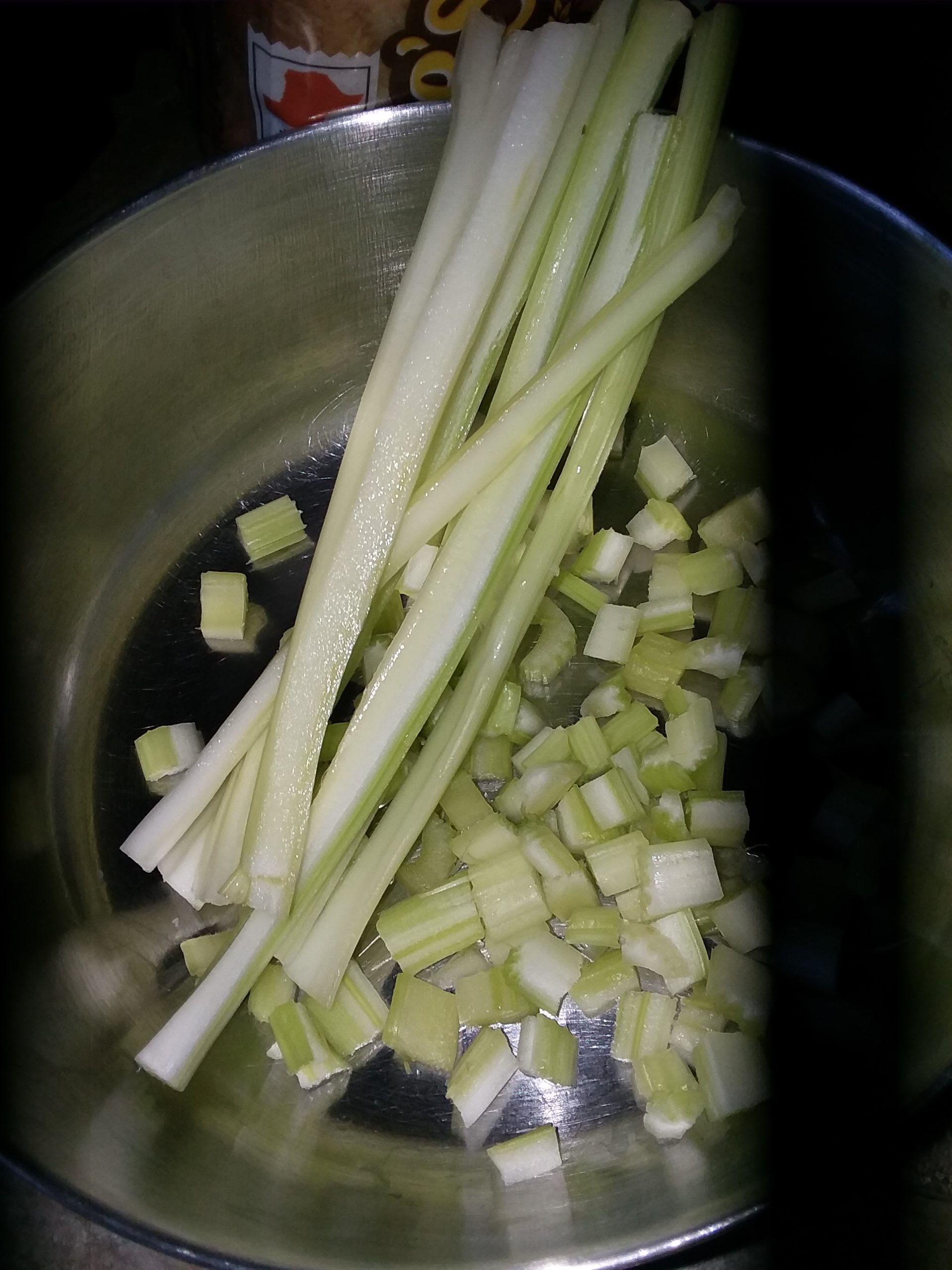 Chop 2 stalks of celery and 1/4 cup of onion or drown 1 Tablespoon of dried, minced onion in 1/4 cup of water to rehydrate.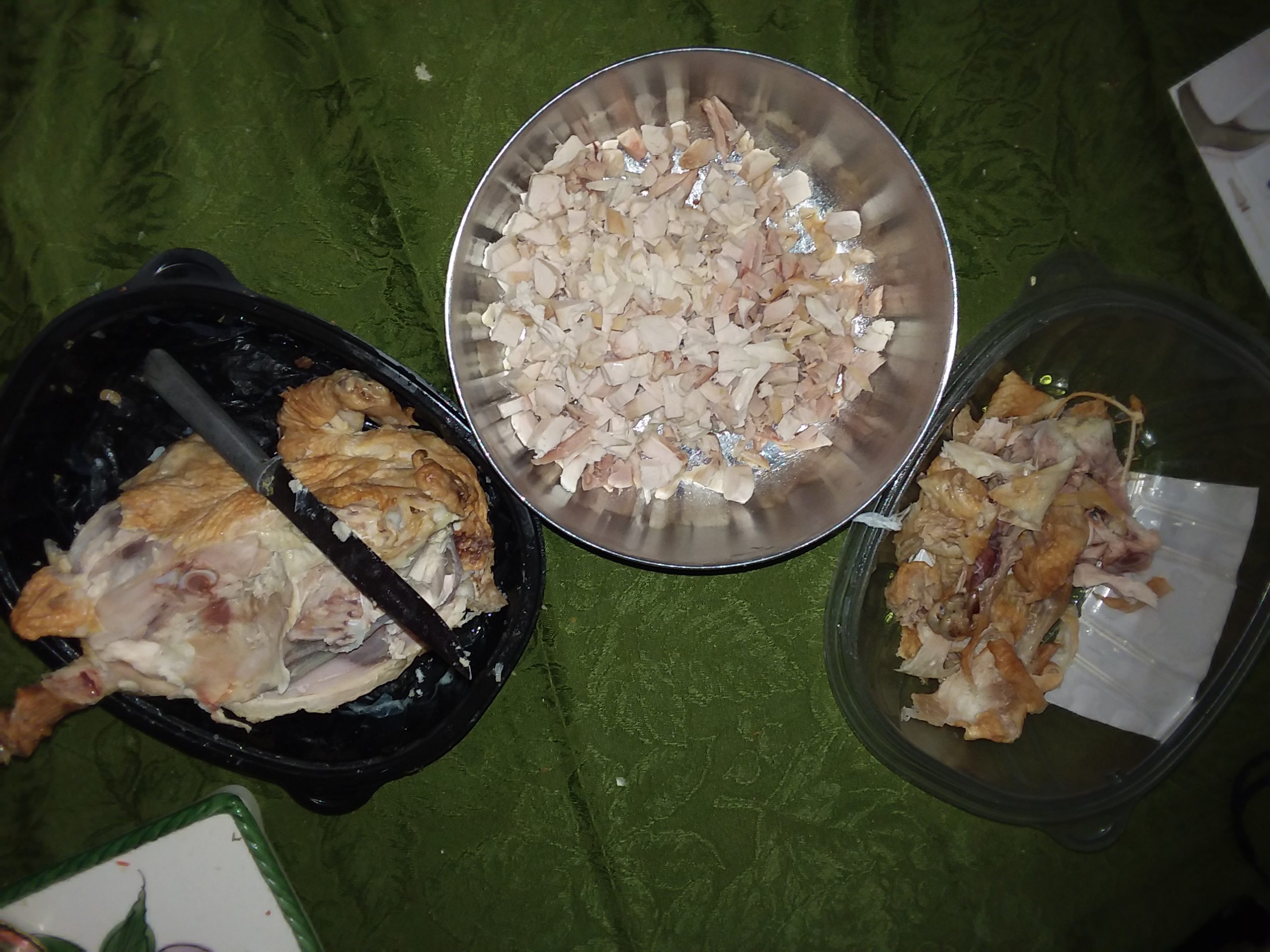 If you buy a rotisserie chicken, already cooked, it will be easier on your wallet than buying a bag of frozen breasts or thighs and will take less time to prepare.  Cut through the center breastbone, tear the skin off, and pull apart the meat from the breasts, legs, and thighs. After finding all the meat on the chicken, cut it up into small cubes, and you're half-way there.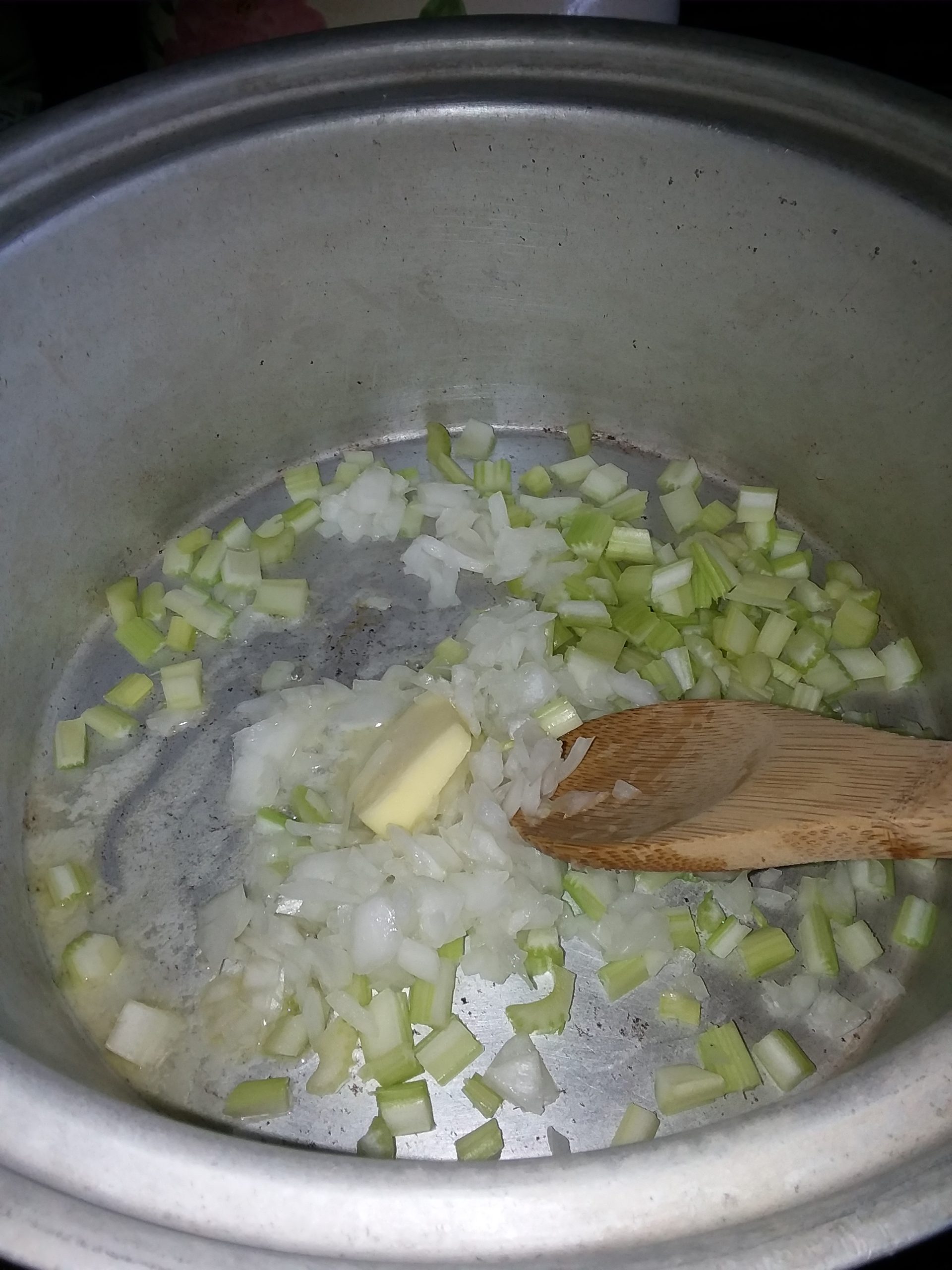 In a deep pot or Dutch oven, melt 2 tablespoons of butter and add the onion and celery.  Cook them on low until the onion is soft and transparent. Add ¼ cup of flour, 1 teaspoon of salt, and mix it with the onion and celery.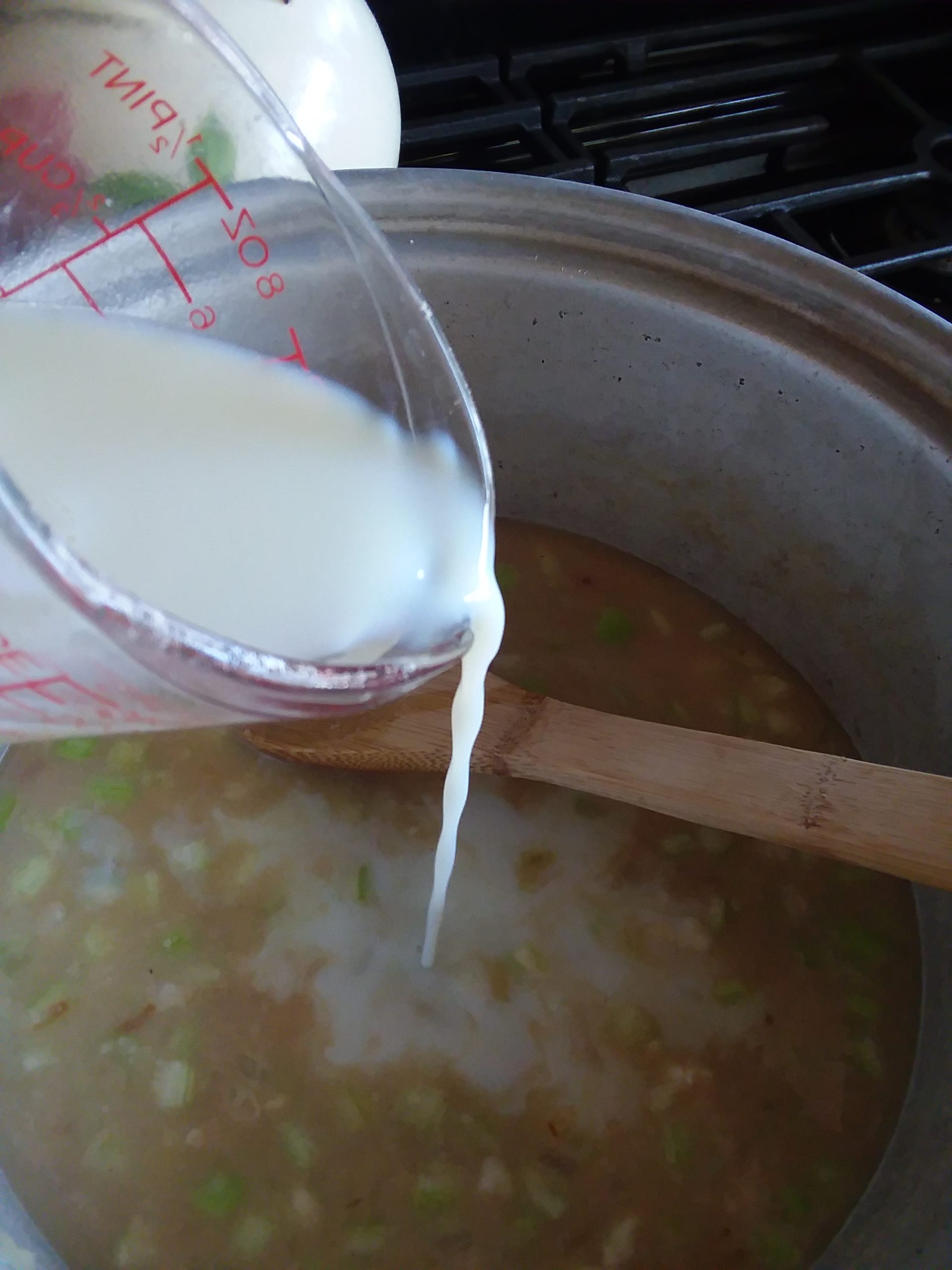 Add a ½ cup of milk and stir and 1 tablespoon of poultry seasoning and stir well.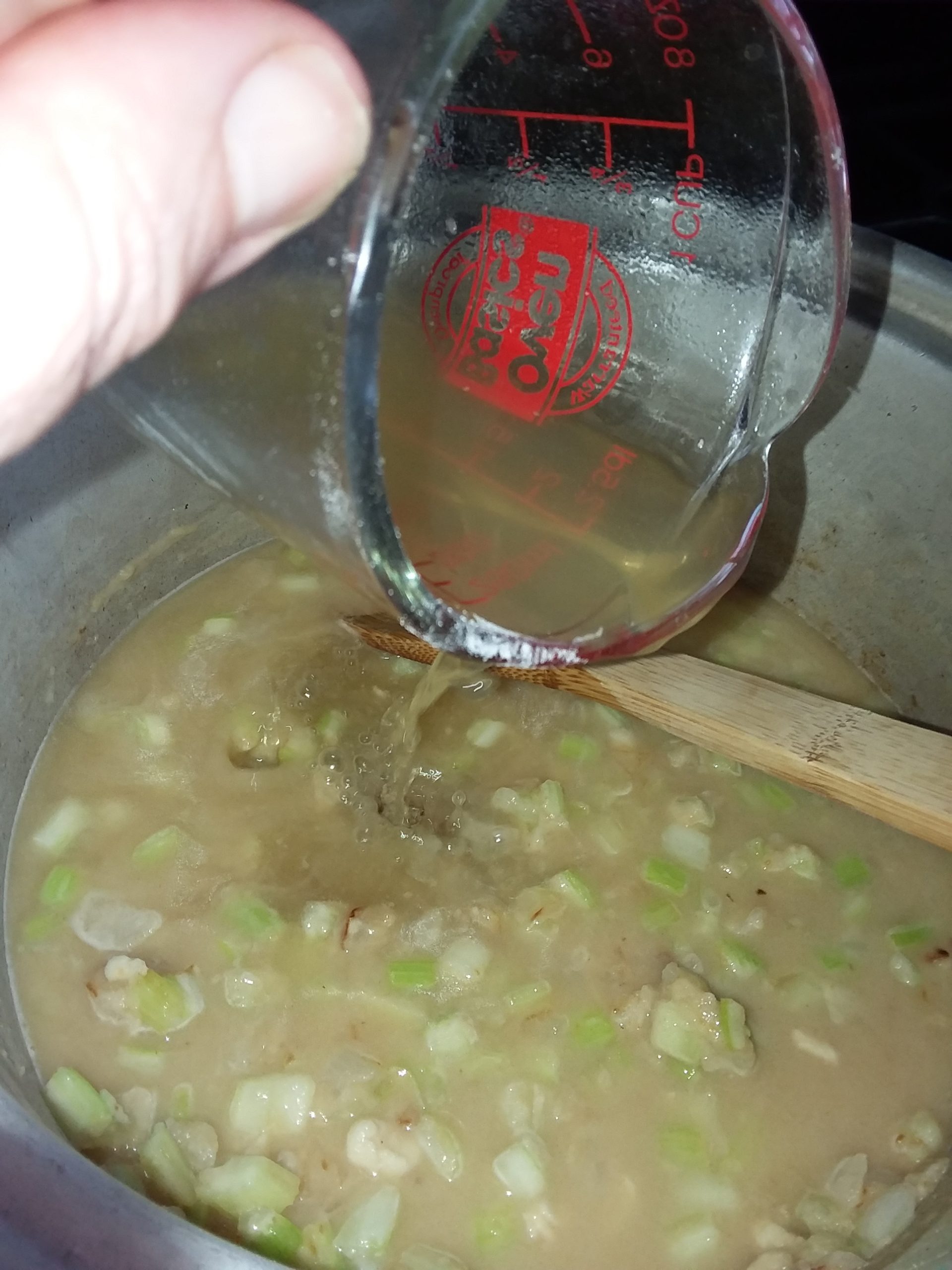 Slowly add 10 ½ oz. can of chicken broth to the pot and stir. The flour will thicken the chicken stock, but don't be surprised if you see lumps. Just keep stirring and working them out.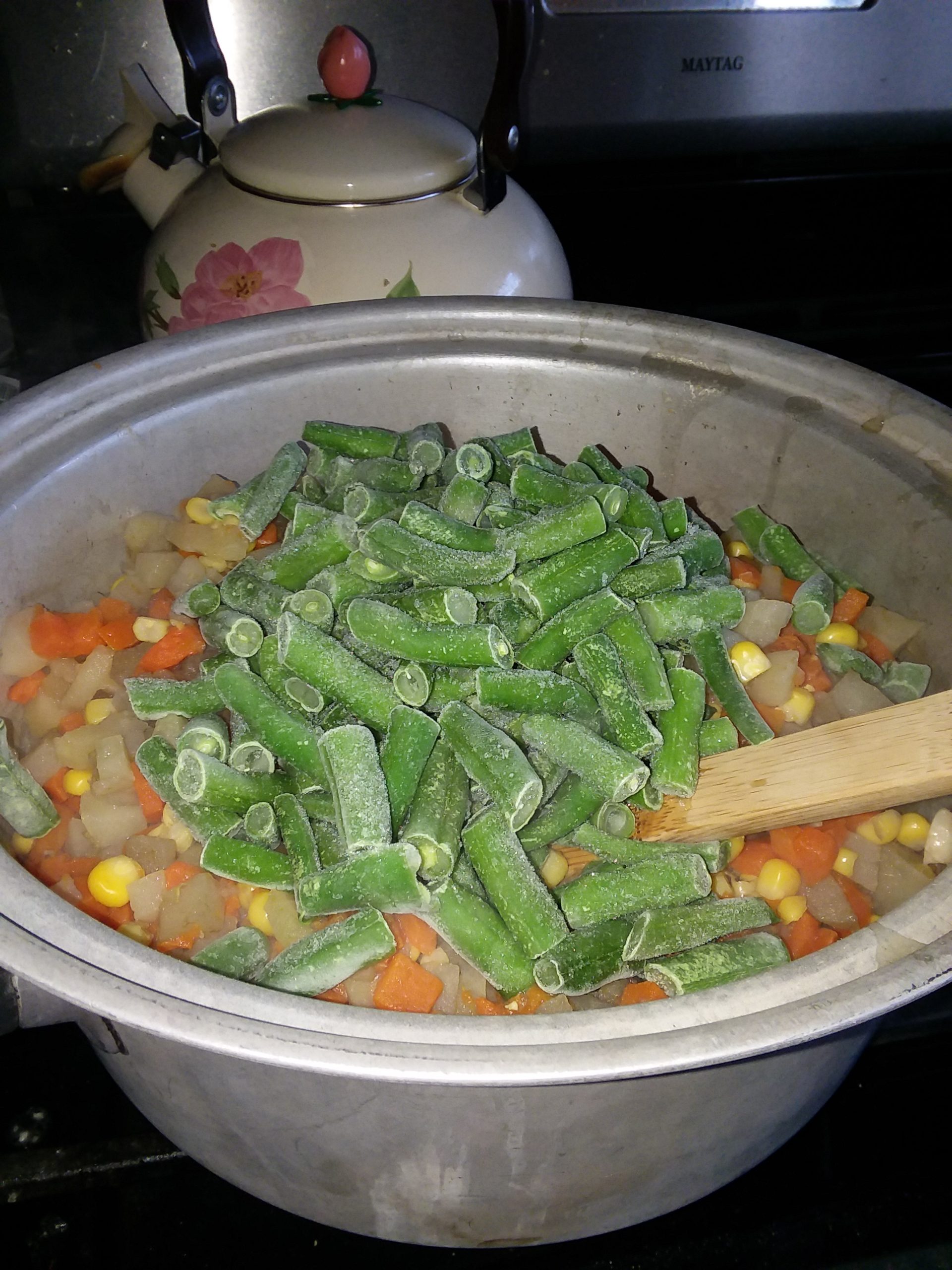 Now add your chicken and 2 cups of cooked or frozen vegetables which include carrots, corn, green beans, and potatoes.  If you have some cooked vegetables and some frozen vegetables, that's okay; blend them together.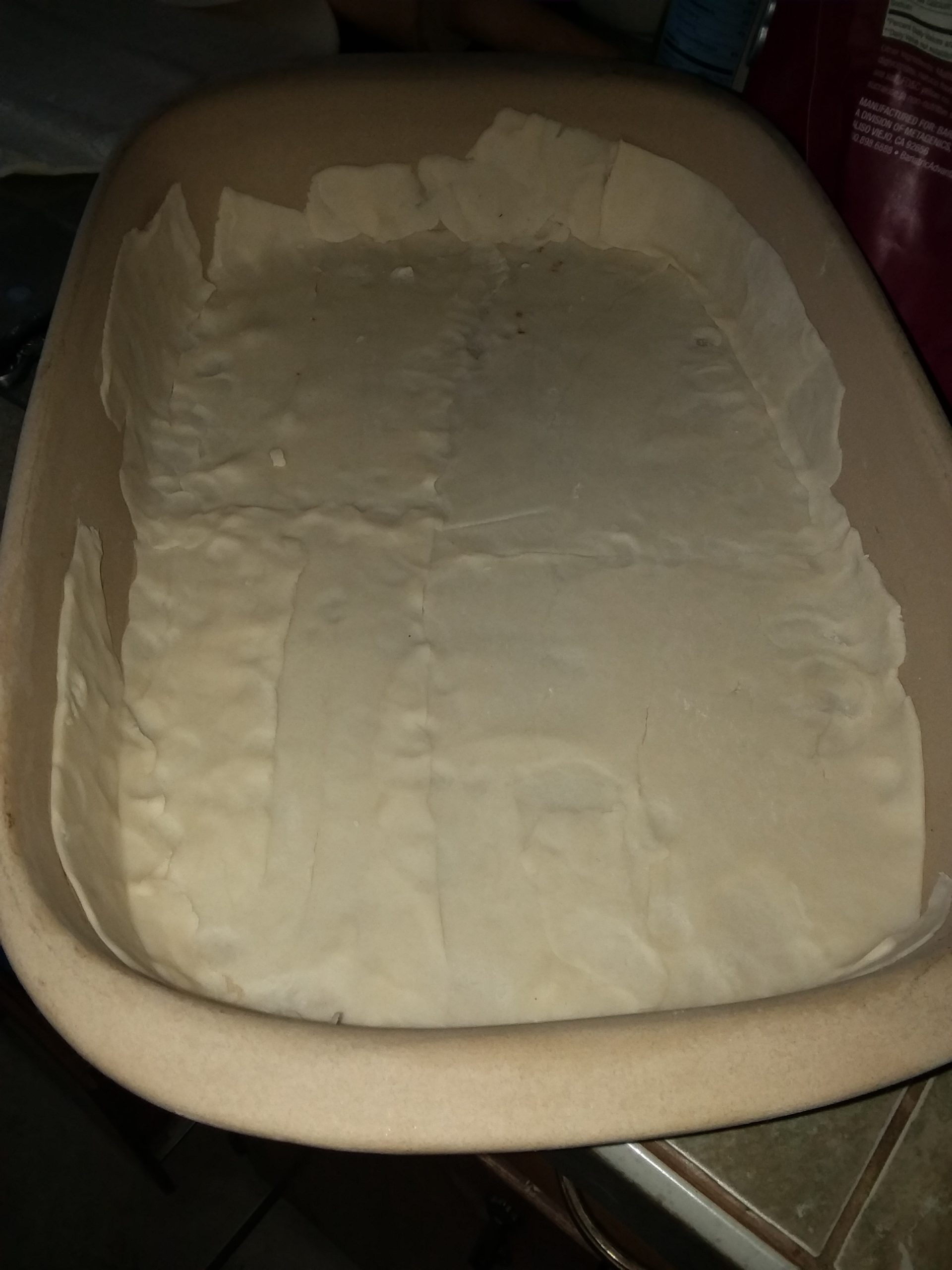 Unroll one of the pie crusts. If you are using a metal or glass pie plate, you are in luck: your pie crust will lay inside easily. Use your fingers to work around the pie plate and mold the raw dough so that it is completely touching the plate. 
Since I use a casserole dish, I roll my pie crusts thinly to make them stretch to the size of my dish…well, most of the dish.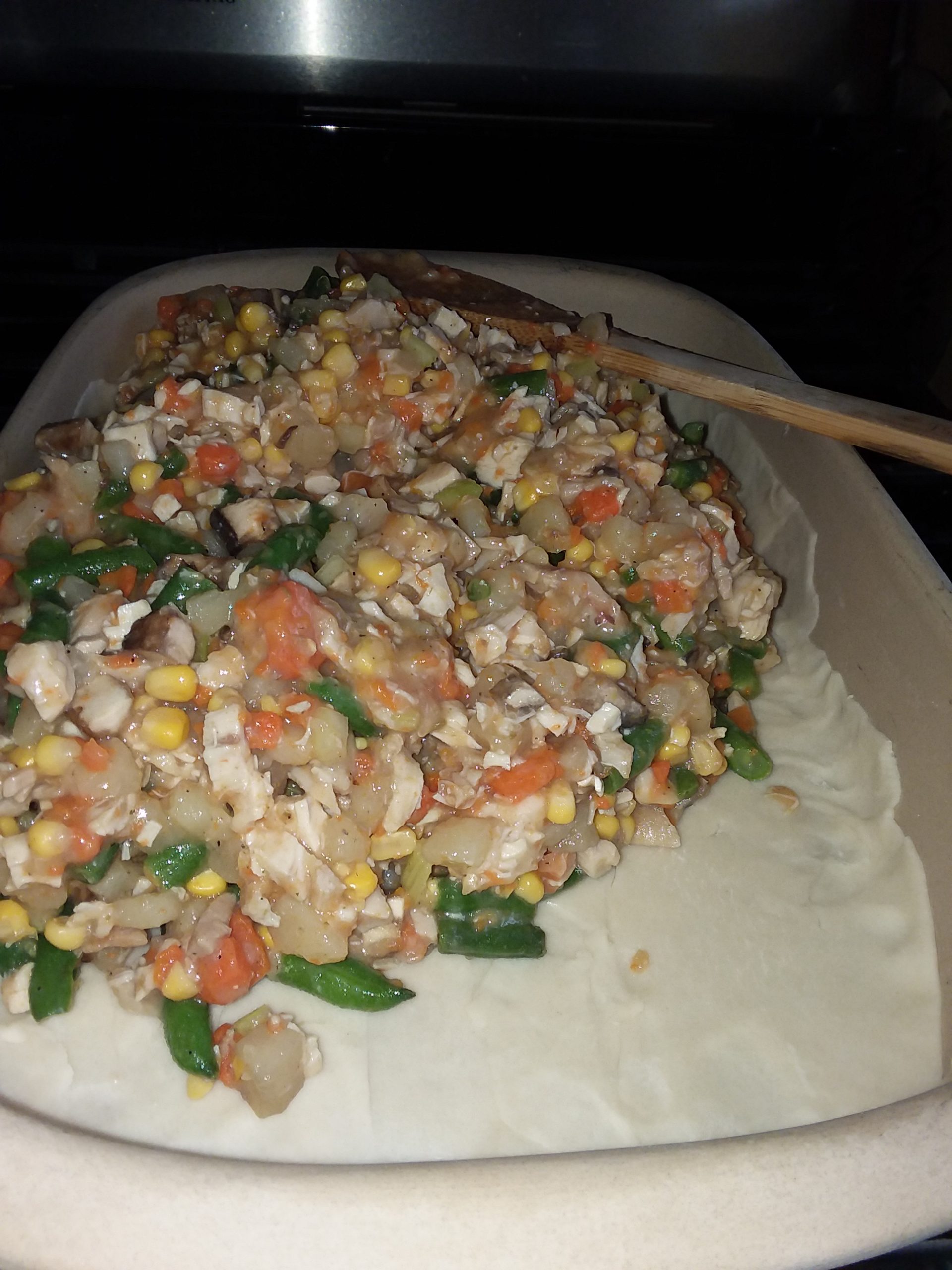 Scoop out the chicken mixture into the pie crust and use a spoon to level the mixture.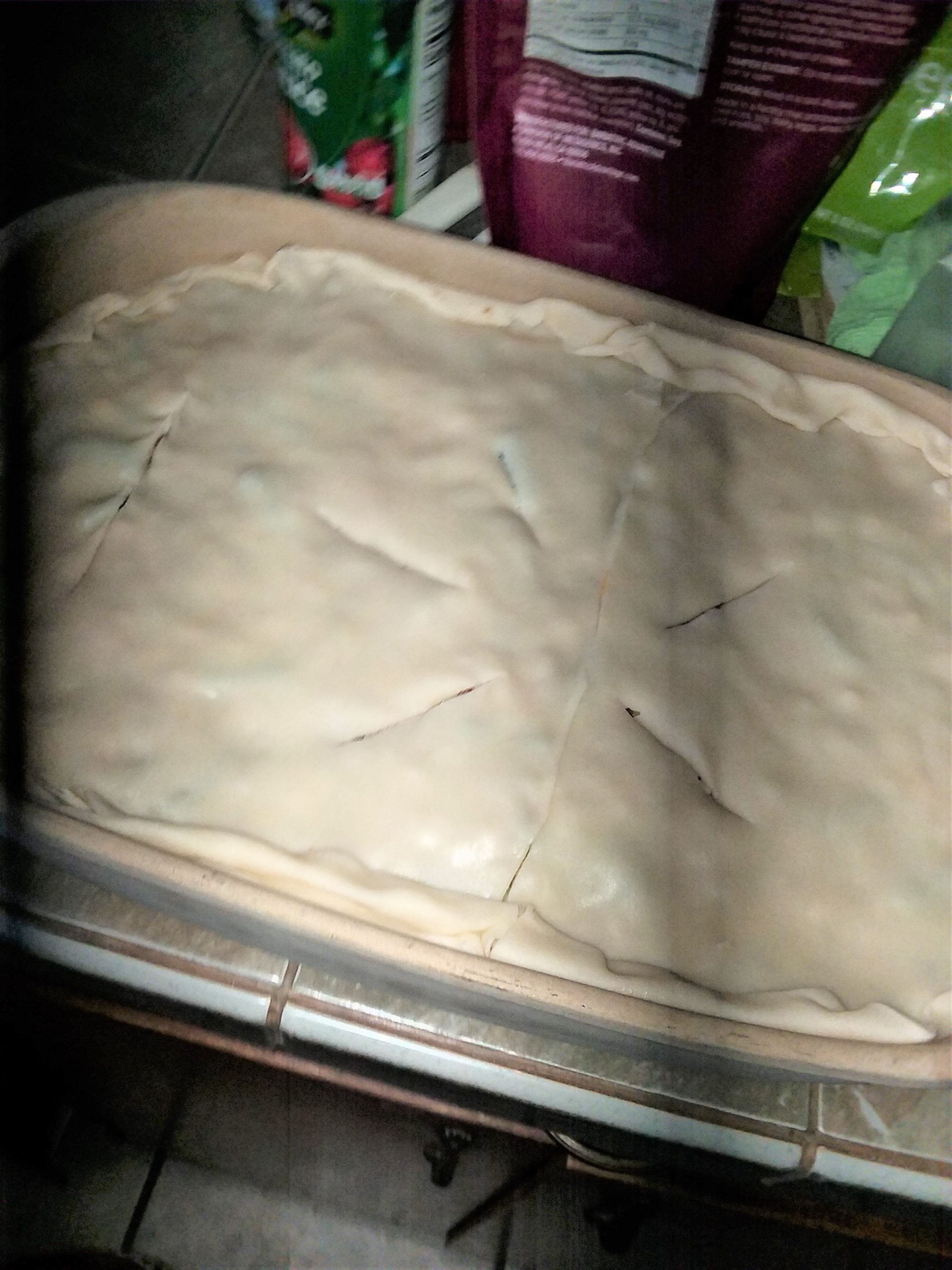 Unroll the second pie crust and lay it over the mixture on your pie plate.  Again, with my casserole dish, I roll out the top crust thinly to cover the top. As you see, I had to cut it in half to pick it up…Oh, well.  Very carefully, roll the edges of the two crusts together. If you want to get fancy, pinch the top and bottom crusts together for a pretty edging all the way around the pie.    Afterward, cut 4 or 5 slits in the pie from the center to allow steam to escape while it's cooking.
Unless you are using a sturdy casserole, like stoneware, set your pie plate on a cookie sheet before putting it in the oven to prevent a mess spilling the contents all over a hot oven or on the kitchen floor.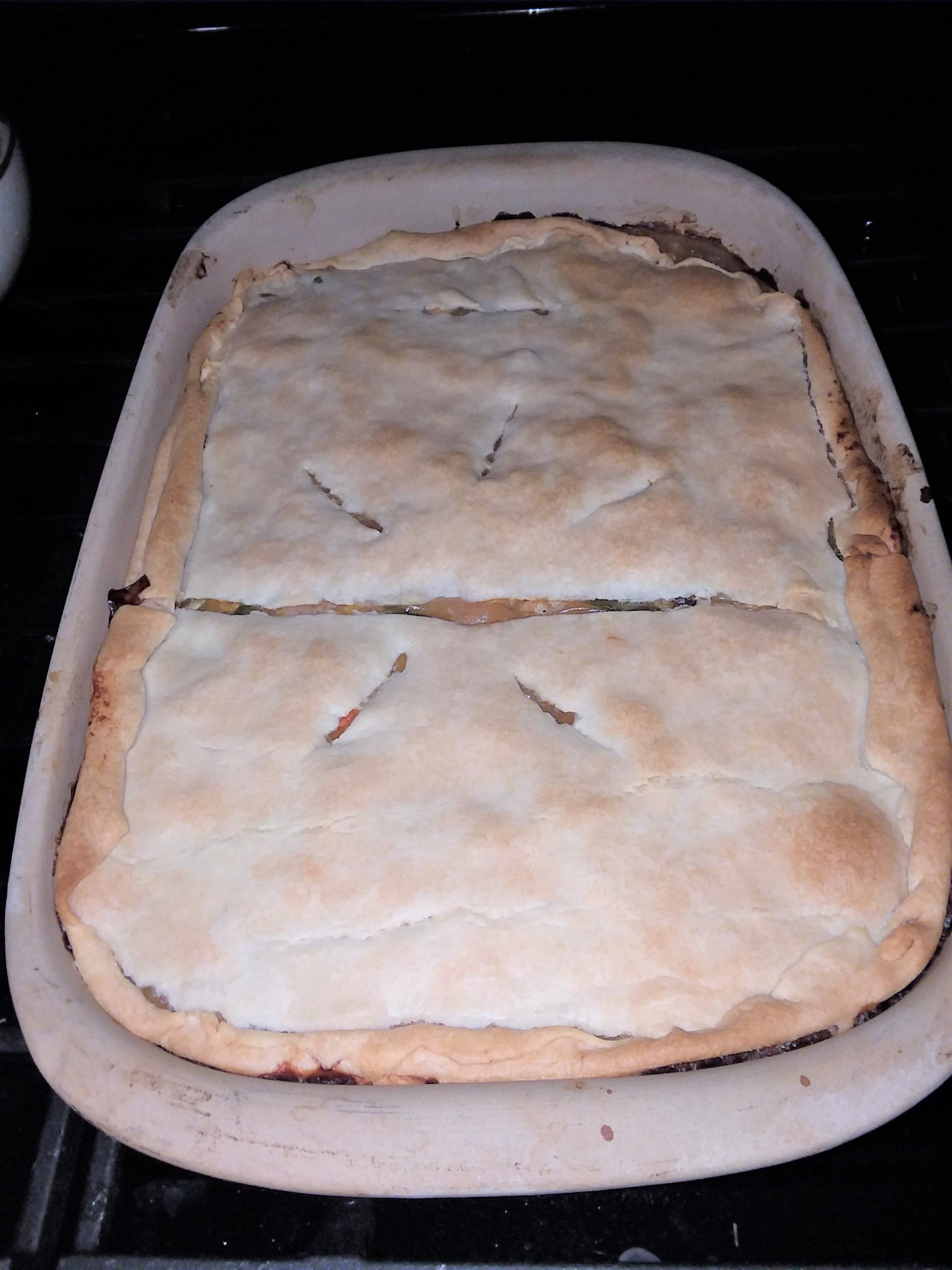 After about an hour, check the pie and look for a nice golden-brown crust.  Let it sit on top of the oven for about 5 minutes. Then it's ready for dinner.
I cannot tell you how much I rejoiced the first time I saw my son eat a slice of chicken pot pie knowing it had six (count 'em, 6) vegetables inside.  He even asked for seconds.  If I were smart, I would have recorded that.
I wish that I had made my own baby food with my own cooking. I could have used a blender and let my little ginger boy grow accustomed to the way I cook.  Unfortunately, I had no one to counsel me, and I'm not even sure that it was "the thing" to do when Ian was small.  However, now I can certainly see the benefits:  saving money from not buying all the jars of baby food packed with food additives and preservatives and starting out baby eating home cooking from the beginning.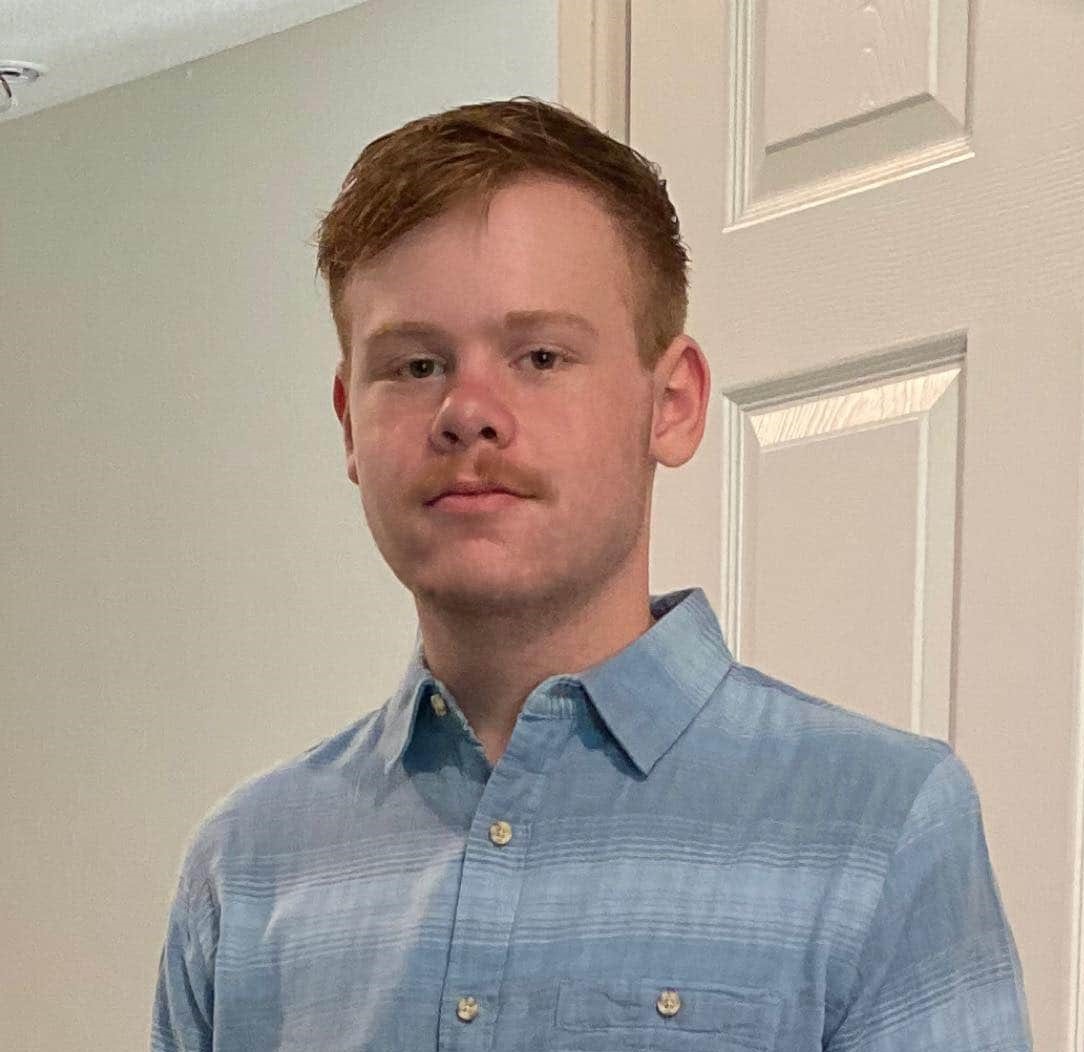 Now Ian is 17, and I still can't get him to eat many vegetables, but he will still eat Chicken Pot Pie.  If you have a wee-one (or a big one) who needs to eat her vegetables, feed her some pot pie.  
And if she's still stubborn about it, wave a bag of M&Ms.  It can't hurt.
Written from my heart,
Janet
<!– starts InLinkz code –><div class="inlinkz-widget" data-uuid="8e4b61d618b1444b9e9a9f391b9f0539″ style="width:100%;margin:30px 0;background-color:#eceff1;border-radius:7px;text-align:center;font-size:16px;font-family:'Helvetica Neue',Helvetica,Arial,sans-serif"><div style="padding:8px;"><p style="margin-bottom:15px;">You are invited to the <strong>Inlinkz</strong> link party!</p><a href="https://fresh.inlinkz.com/p/8e4b61d618b1444b9e9a9f391b9f0539″ target="_blank" rel="nofollow" style="padding:5px 20px;background:#209cee;text-decoration:none;color:#efefef;border-radius:4px;">Click here to enter</a></div></div><span style="display: none;"><script async="true" src="https://fresh.inlinkz.com/js/widget/load.js?id=a8b40ada7693d64e5923″></script></span><!– ends InLinkz code –>